Research indicates that up to 40% of people with diabetes suffer from a diagnosable eating disorder and many more engage in other forms of disordered eating behavior (DEB). Clients often struggle with the guilt and pain of chaotic eating in much higher numbers than the general population. In fact, on any given day you are likely encountering clients with DEB, and yet as health professionals we often have little education or experience in how to guide clients in their relationship with food and eating.  
How You Can Help Your Clients Make Peace with Food
We can empower our clients by untangling the 'knots' of disordered eating behaviors through: 
Screening and assessing for clinical eating disorders; referring when necessary
Affirming clients fears, frustrations and confusion about nutrition and diabetes—while dispelling the myths about diabetes and nutrition
Teaching clients eating patterns that reduce vulnerability to disordered eating and break the restrict-binge-guilt cycle
Using specific language and education techniques to reduce the triggers of disordered eating
Guiding clients to trust their bodies signals through intuitive eating and mindfulness 
You Have Heard Your Clients Say….
I know what to do, I just can't do it OR
I don't know what to eat! 
I'm out of control I'm addicted to food
I 'cheated' or I 'was bad' yesterday
I was "good" all day and then….
Increase your confidence in navigating disordered eating in diabetes with this 4-week concentrated learning experience. This session is condensed to provide you with the tools and counseling skills you want to implement in your practice now.  
Specifics About This Session: 
This session provides a condensed learning and coaching experience over 4 weeks
It will meet on Thursdays, Oct 8, 15, 22 and 29th
Sessions meet from 12:00-1:30 pm ET
Sessions are live and not recorded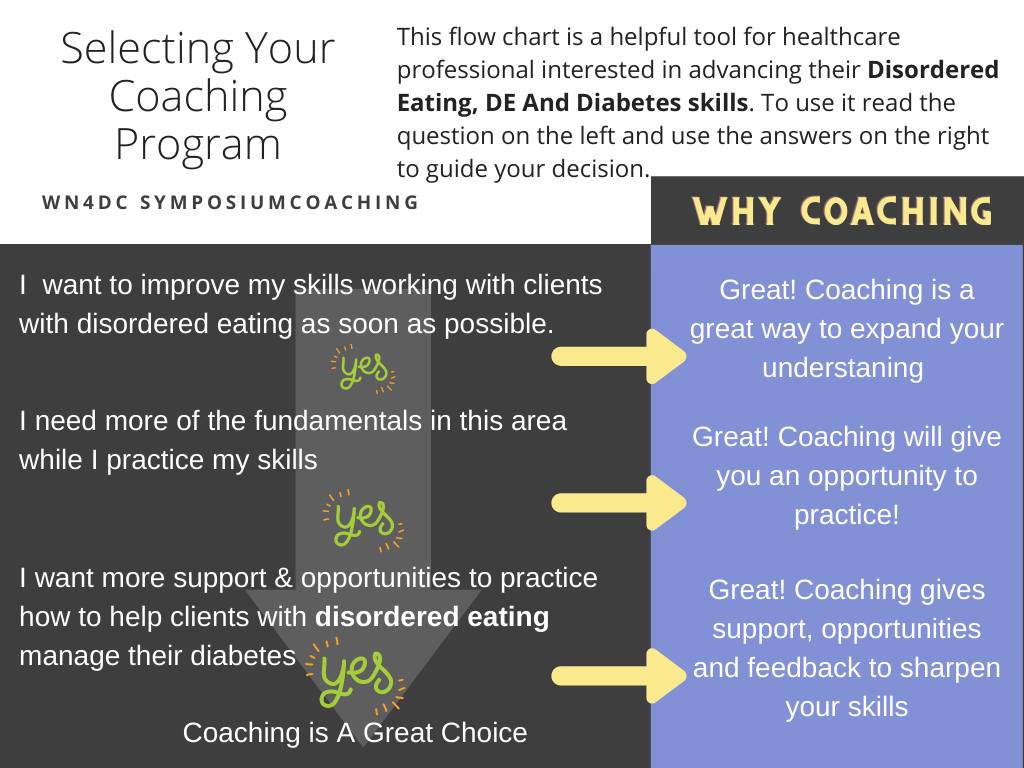 Which Coaching Program is Right for You?
We want to make sure you choose the right coaching program for you. You have two options
A year-long 8 session coaching program.
You also have the option to pair your coaching package with the WN4DC Symposium Disordered Eating Track for only $50! You will save over 61% and add 4 additional CPE!
"Healing our patient's relationship with food is the first step to improve blood sugars."
Is a Certified Eating Disorders Registered Dietitian (CEDRD) in private practice. Holly area of specialty is the intersection of eating disorders and diabetes. As a Certified Intuitive Eating Counselor, Holly utilizes principles of Intuitive Eating and the Health At Every Size (HAES) paradigm in working with clients.  
In addition, Holly is an iadep-Approved Supervisor, CEDRD-S, and especially enjoys mentoring dietitians and other health professionals interested in learning more about Health at Every Size , Intuitive and Mindful Eating, Weight Neutral Diabetes Care and eating disorders treatment.   
To learn more about Holly visit her website: hollypaulsenrd.com.  She can be reached at [email protected]