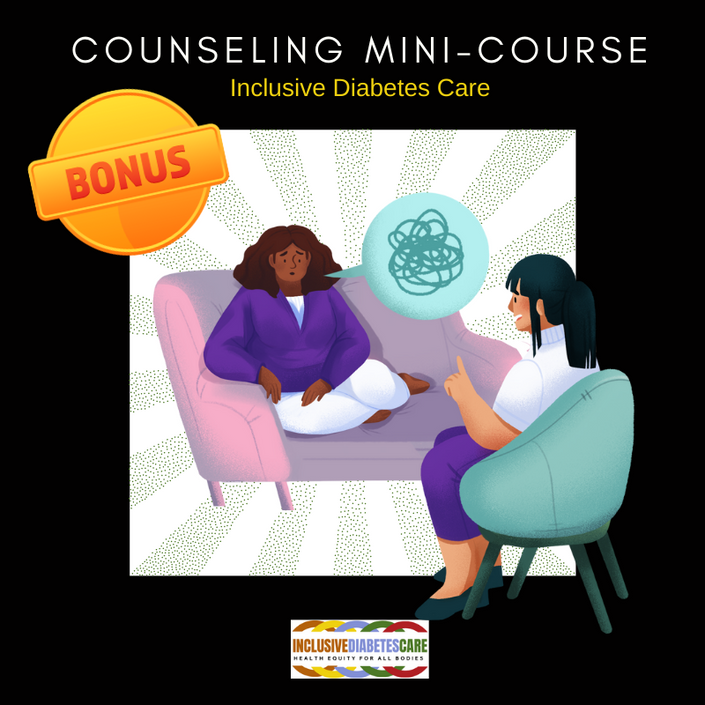 WN4DC Mini-counseling Course Part 2
Using weight neutral affirmations and summaries to support lifestyle change.
Watch Promo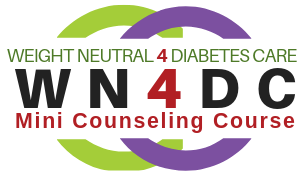 This course is going to help you get comfortable with using the Motivational Interviewing skills of affirmations and summaries. I wrote this course to complement Part 1, which focuses on Open-Ended Questions and Reflections.

When you complete Part 1 and Part 2, you will have had a chance to practice using the MI Mnenoic OARS which stands for:
Open-Ended Questions
Affirmations
Reflections
Summaries
In Part 1 of the WN4DC Mini-counseling, you learned Open-Ended Questions, OEQ, and Reflections. These two skills allow you to get curious about your clients and reflect their values and deeper desires. A significant aspect of the course talked about how diet culture can influence a person's values and skew desires towards restrictive eating. Detailed research was provided, in the eBook Why A Weight Neutral Approach is Essential in Diabetes Care to help you understand the evidence to stop supporting weight-centered desires and to shift your focus onto behaviors such as the ADCEA 7 Self-care behaviors. You also learned that understanding diet-culture is tricky because it presents in subtle and confusing ways.
In Part 2, you are going to use your curiosity to become even more effective when working with clients. Here you are going to learn about Affirmations and Summaries. Adding these two skills will complete the counseling skills to use OARS with your clients effectively. These eight topics are presented, each 20-minutes in length. There are eight handouts and one quiz totaling 180 minutes, or 3 hours of programming. Here is a description of each concept.
4 Typical Responses - In this webinar, we will review key aspects of Part 1, and demonstrate how using OEQ can help you come alongside with your clients when they aren't able to lean into learning.
7 Things to Affirm - In this webinar, you will explore seven vital weight-neutral concepts that so you can always affirm your client and review reflection.
In this five-part webinar series, you will learn how to affirm five non-diet skills

Body Cues -- Affirming the Awareness of Eating and body cues such as hunger, fullness, and satiety without attaching these behaviors to weight loss for people with diabetes.
Affirming Self-care vs. weight-loss desires for people with diabetes.
Affirming the many ways to Embrace All Foods and exploring how to reduce food fears and the desire to explore how all foods fit.
Affirming the many ways Size Acceptance and Size Diversity may present for the client.
Affirming Enjoyable Movement for health, well being, and blood sugar control instead of weight-loss.
The last webinar will be about Summaries. Here you will learn that summaries are not goals or reflections but may have some shared qualities. You will also learn how to use summaries and reflections effectively to help you smoothly shift your counseling sessions out of MI to create practical weight-neutral health goals.
Your Instructor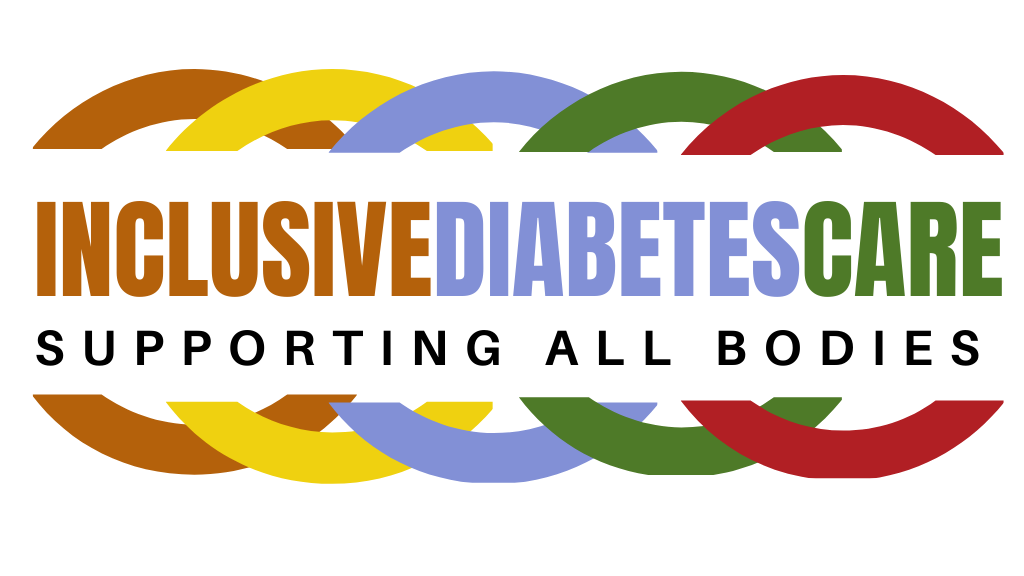 The Mission of Inclusive Diabetes Care Membership is to promote health equity by providing the IDC Certificate, which is a structured pathway that amplifies marginalized voices and creates a clear understanding of how oppression, specifically weight stigma, trauma, disease, race, gender, and/or physical ability, impact diabetes care.
Course Curriculum
Using Open-ended Questions and Reflections
Available in days
days after you enroll
What To Affirm?
Available in days
days after you enroll
About Summaries
Available in days
days after you enroll
Frequently Asked Questions
How long do I have access to the course?
This course is approved for 3 CPE until January of 2023
What if I am unhappy with the course?
We would never want you to be unhappy! If you are unsatisfied with your purchase, contact us in the first 30 days and I will give you a full refund.
Should I review the material from Part 1?
You want to get the most from this course so it's a good idea to get familiar with concepts in Part 1 before you jump into Part 2.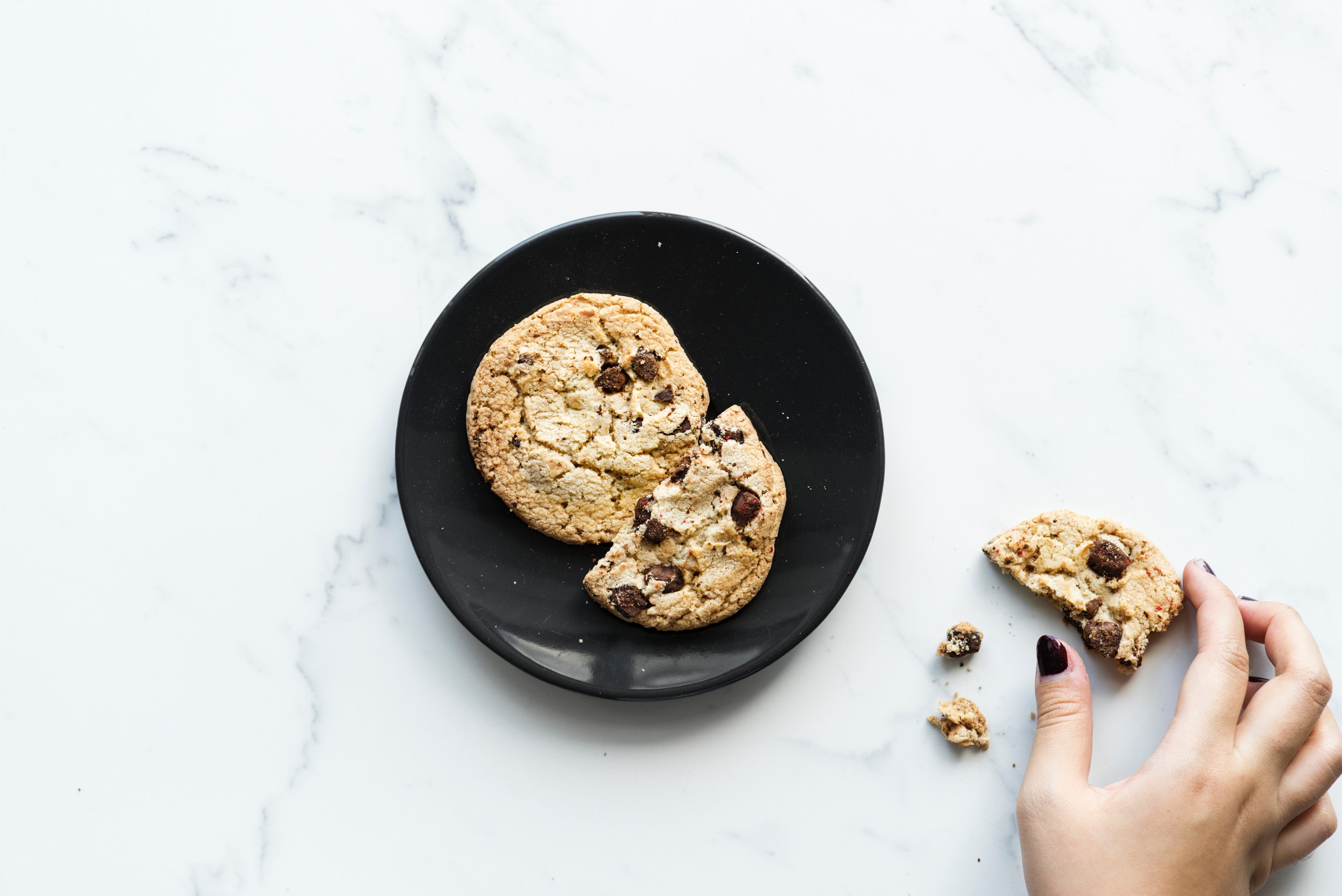 Professionals like yourself are trying to communicate to clients that deprivation doesn't work! It is hard to explain that ending the habit of restrictive eating doesn't mean you are encouraging over eating or abandoning balanced eating.
This course will help you counsel your clients towards mindful eating, which may mean eating a cookie, simply because it is warm and tastes good. Eating with awareness also feels nourishing to the client because it is honoring body signals and listening to body cues! Unlike restrictive eating, which gets harder over time and contributes to weight-cycling and overeating, and you know that doesn't stabilize blood sugars, mindful eating gets easier with practice!
When you enroll in the WN4DC Mini-counseling Course Part 2, you not only learn about a weight-neutral approach to diabetes care, you also enhance your Motivational Interviewing skills precisely, the OARS mnemonic which stands for:
Open-Ended Questions
Affirmations
Reflections
Summaries
This course is an evidence-based approach to change that uses Motivational Interviewing to help clients align their values with self-care goals.
This course is closed for enrollment.